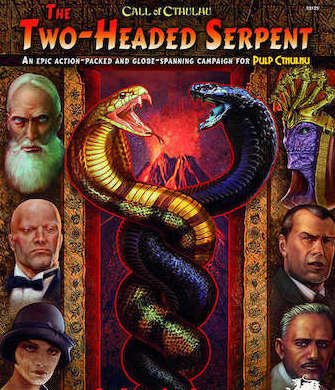 It feels like a guilty pleasure. I usually talk about games with serious tones, etc. But I've been watching a lot of Seth Skorkowsky lately … and am just strangely, strongly curious about this silly Pulp Cthulhu Two-Headed Serpent campaign. (What a great name for an adventure! Some spoilers in the link.) My questions:
If you have experience with Pulp Cthulhu – is it playable alone or with just the Call of Cthulhu quickstart? Or do you really need the full 7th edition Call of Cthulhu core book, too?

What other systems would you consider? (Maybe something d6-based like Urban/Modern/Fantasy, or would you stick to d100s …?)

Are there other adventures, systems, or settings that you'd recommend with a similar pulp-action feel, if I still can't get enough?

And … do you have any other guilty-pleasure silly settings that you enjoy?