I'll start us off. Feel free to post photos of your hand-made books and zines, amateur and otherwise!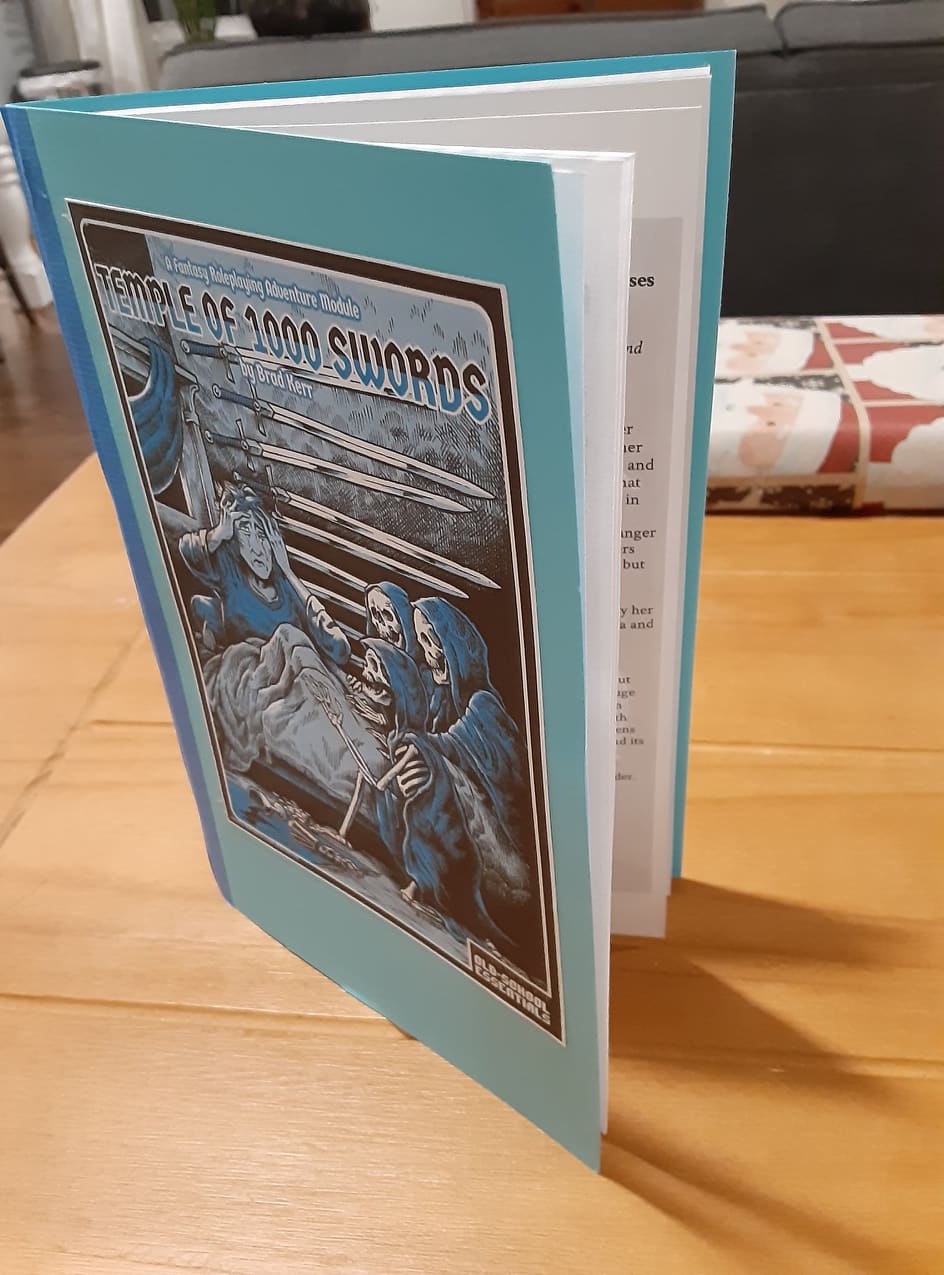 I staple-bound this one last night: Temple of 1000 Swords by Brad Kerr. Thanks for writing such a cool adventure!
I'll post a few of my own later, but for now I'd love to hear how you made this!
As I'm sure @bradkerr would as well.
Yeah! It'd be great to see the process, if you woulldn't mind sharing. @CapKudzu. How did you manage to avoid bending the pages with the stapler?
I use a long reach stapler and measure 5.5" in. I fold with a bone folder after.
Sure thing! I think one thing is realizing I can get good results from a conventional, non-fancy stapler + two layers of cardboard. (Example here) I think I'll have time on Monday to make a quick how-to video, and I'll try to highlight the non-bending part, per your request.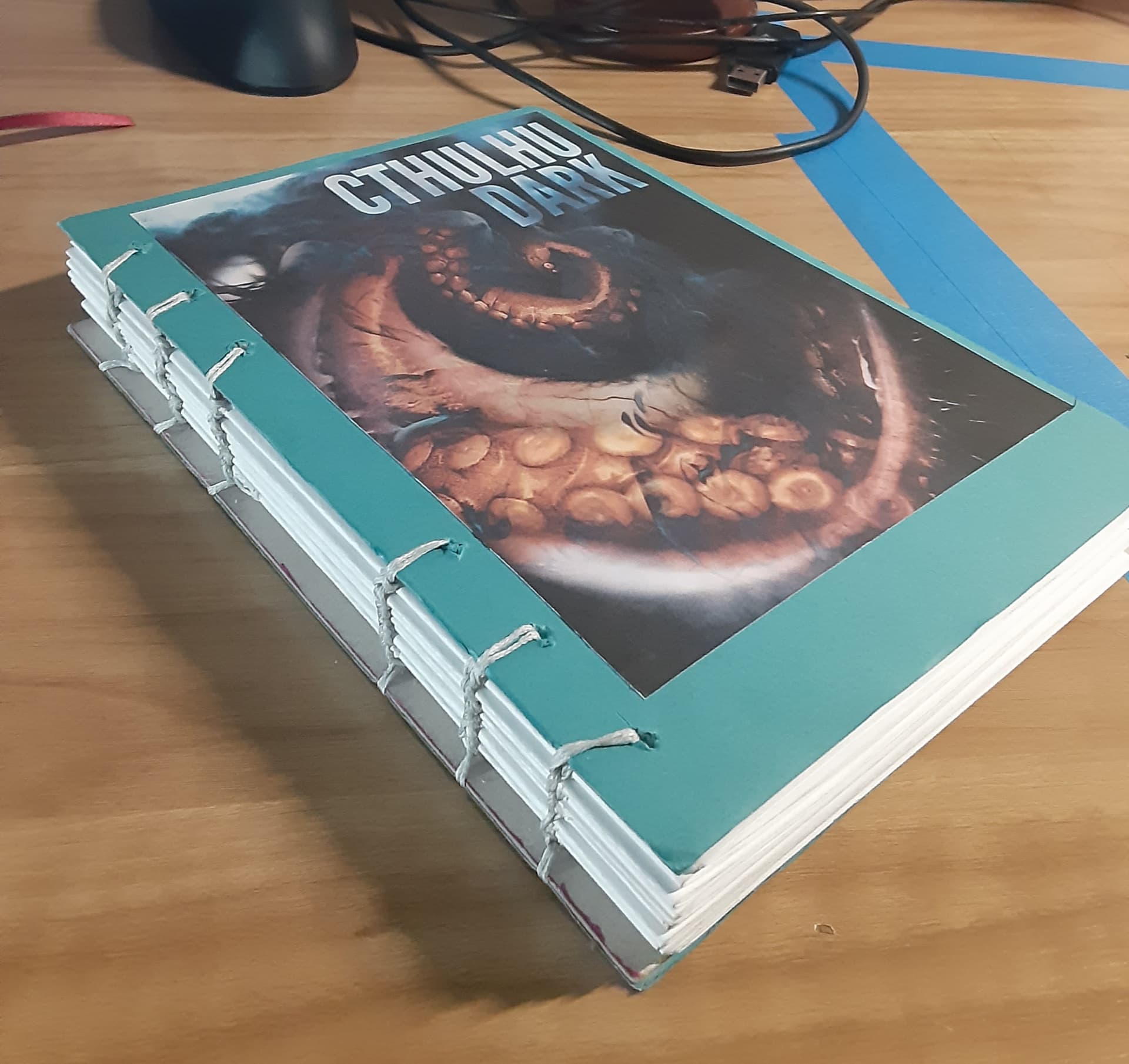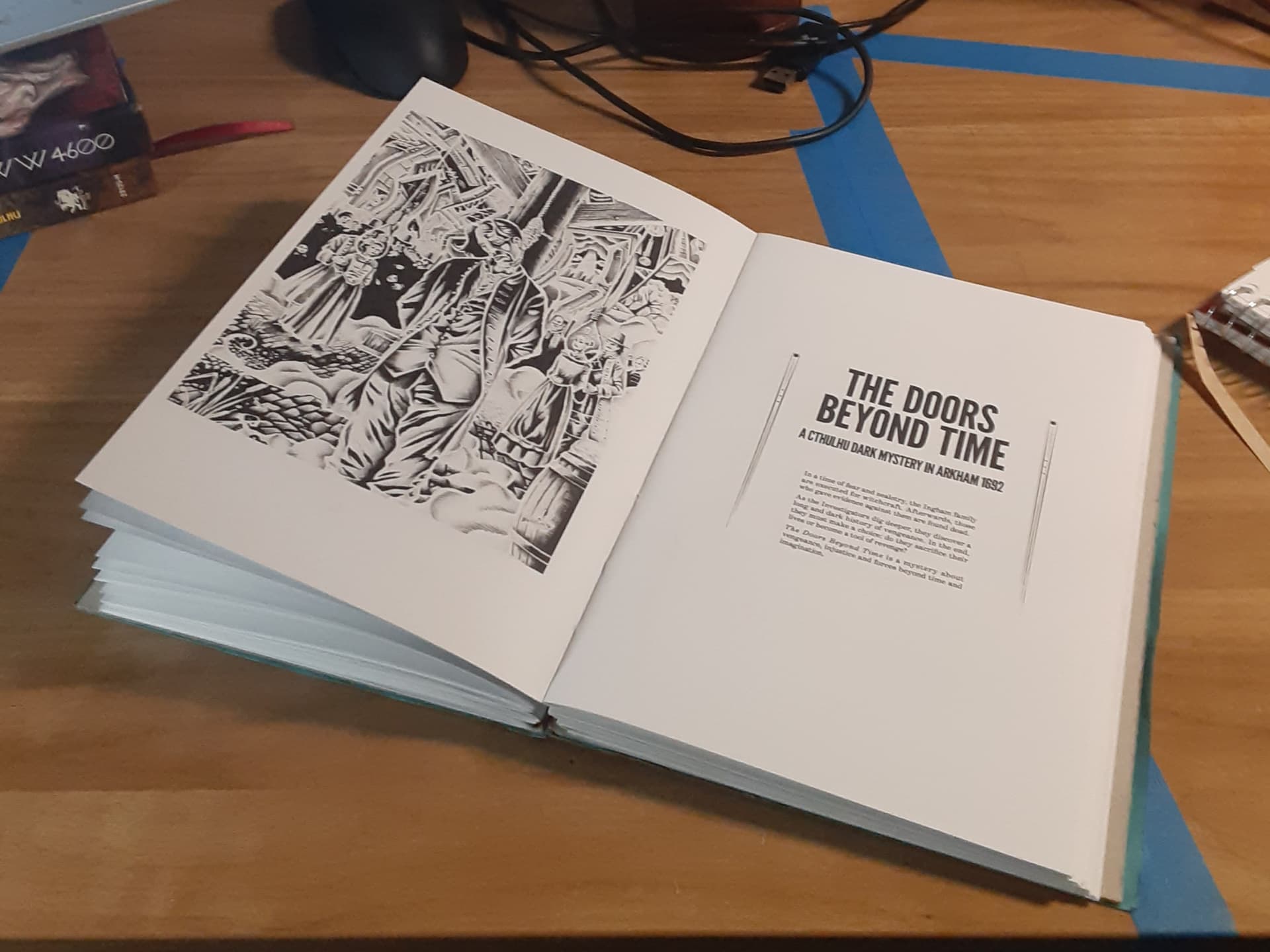 Coptic stitch binding, Cthulhu Dark by Graham Walmsley, 200 pages. Learned it from a Sea Lemon video. Her saddle stitch and other tutorials are pretty good, too.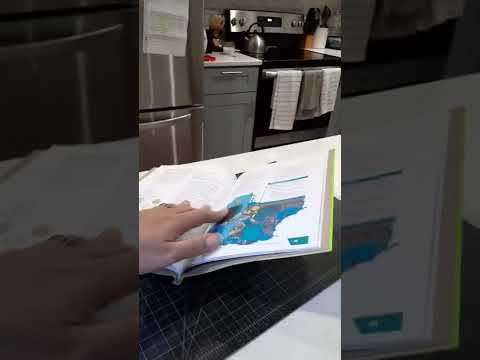 Home printing and binding of "Holy Mountain Shaker" by Luka Rejec for my personal use. Chipboard + color paper cover. I put a little extra effort into this one.

First time kettle stitch! And signed up for an account just to post in this thread, ha. New user so can only post the one photo for now.
Could be better, could be worse. Excited to actually try casebinding next.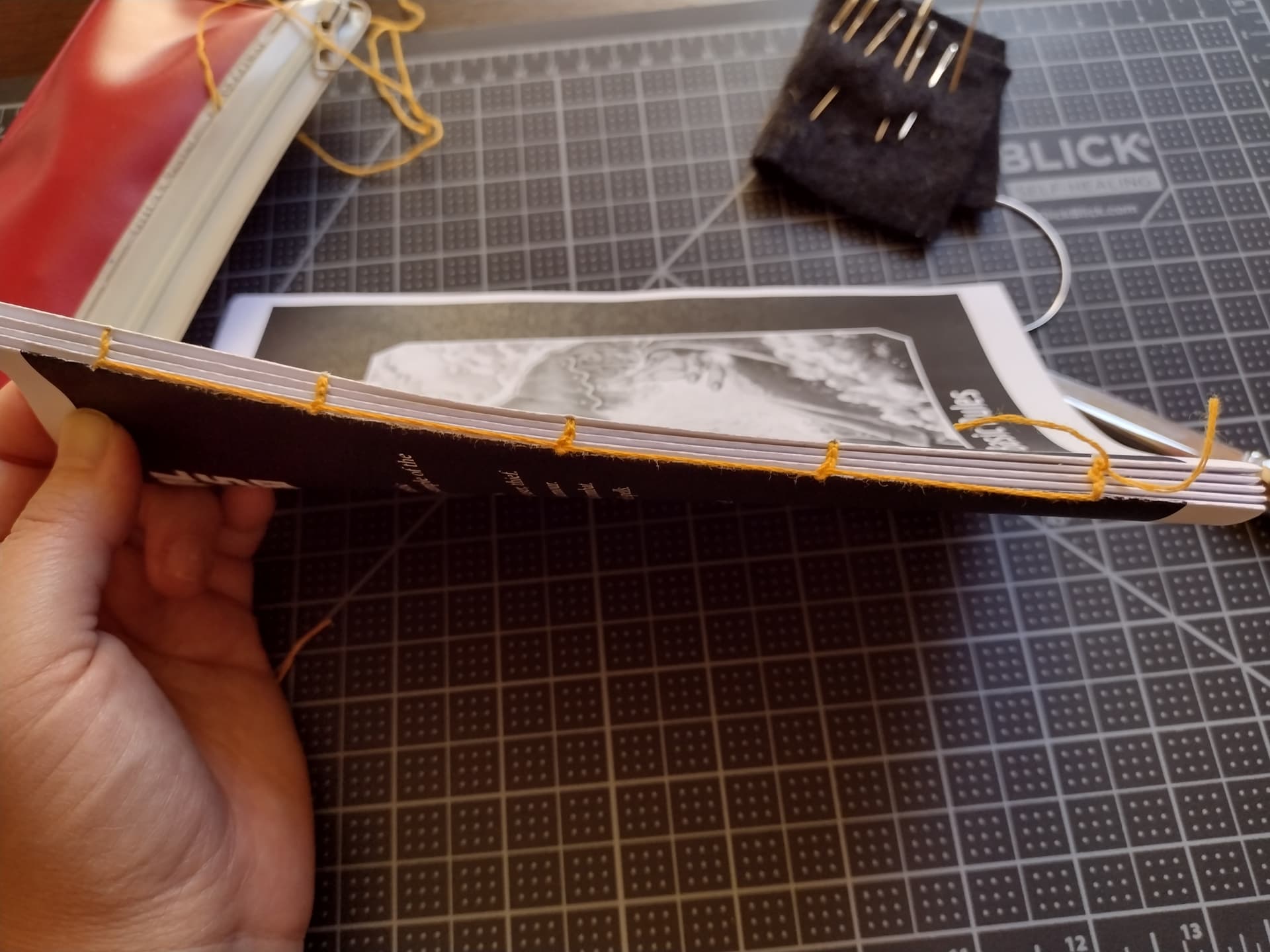 Looks awesome. Welcome to Cauldron!
Here's what I did today.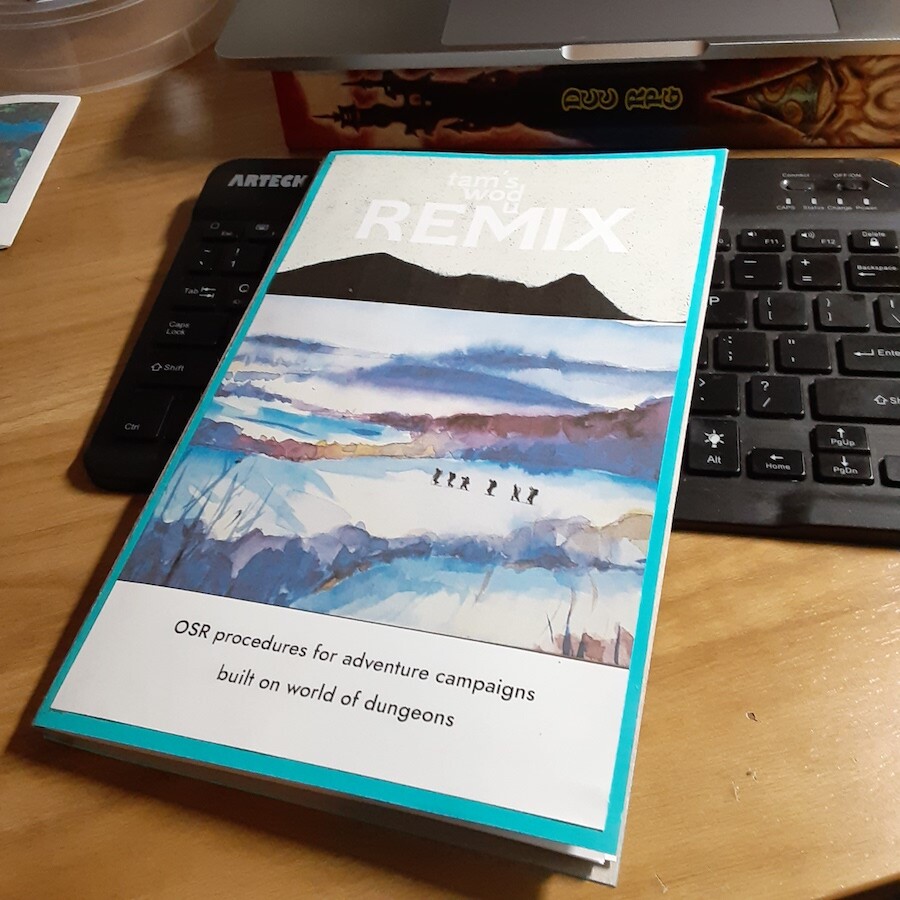 Shoutout to @Tam, author of WoDu REMIX, a hack of John Harper's World of Dungeons with some extra bells and whistles.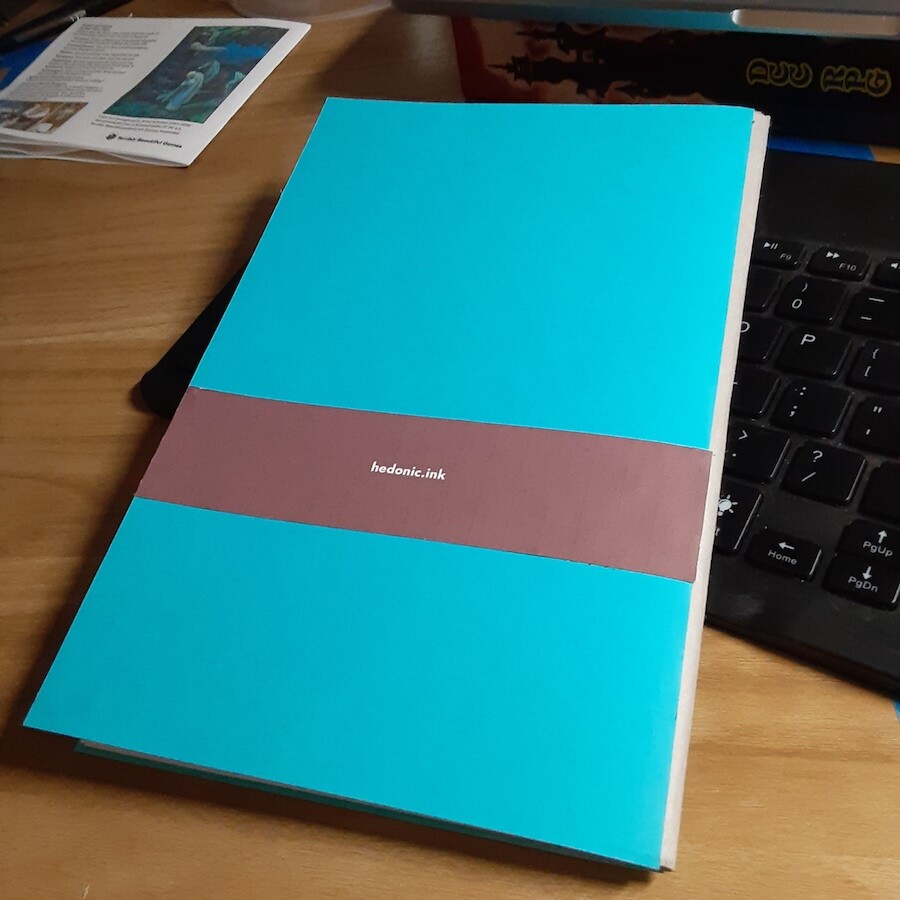 (That's a tiny copy of Abenteuerspiel in the background.)
Staple-bound, then trimmed by hand. 32 lb glossy paper on the inside. Softcover is a single sheet of oversized gray construction paper, cut to size and wrapped around the whole thing and glued in place (so that's why you can't see the staples). Then 2 pieces of blue cardstock glued on top. Front and back covers printed on 32 lb and glued on top of the cardstock to finish.
That looks great @CapKudzu! Some glue for fancy covers is on my bookbinding level up wishlist.
Did some japanese stab binding for these adventures I snagged last month. Would using waxed thread help keep stitches tight? Right now no matter how carefully taut i think I'm pulling, it still loosens. I'm blaming it on using plain, unwaxed embroidery floss, so my plan is to get some waxed thread next and/or finally getting around to melting the leftover beeswax pellets i have to make a wax block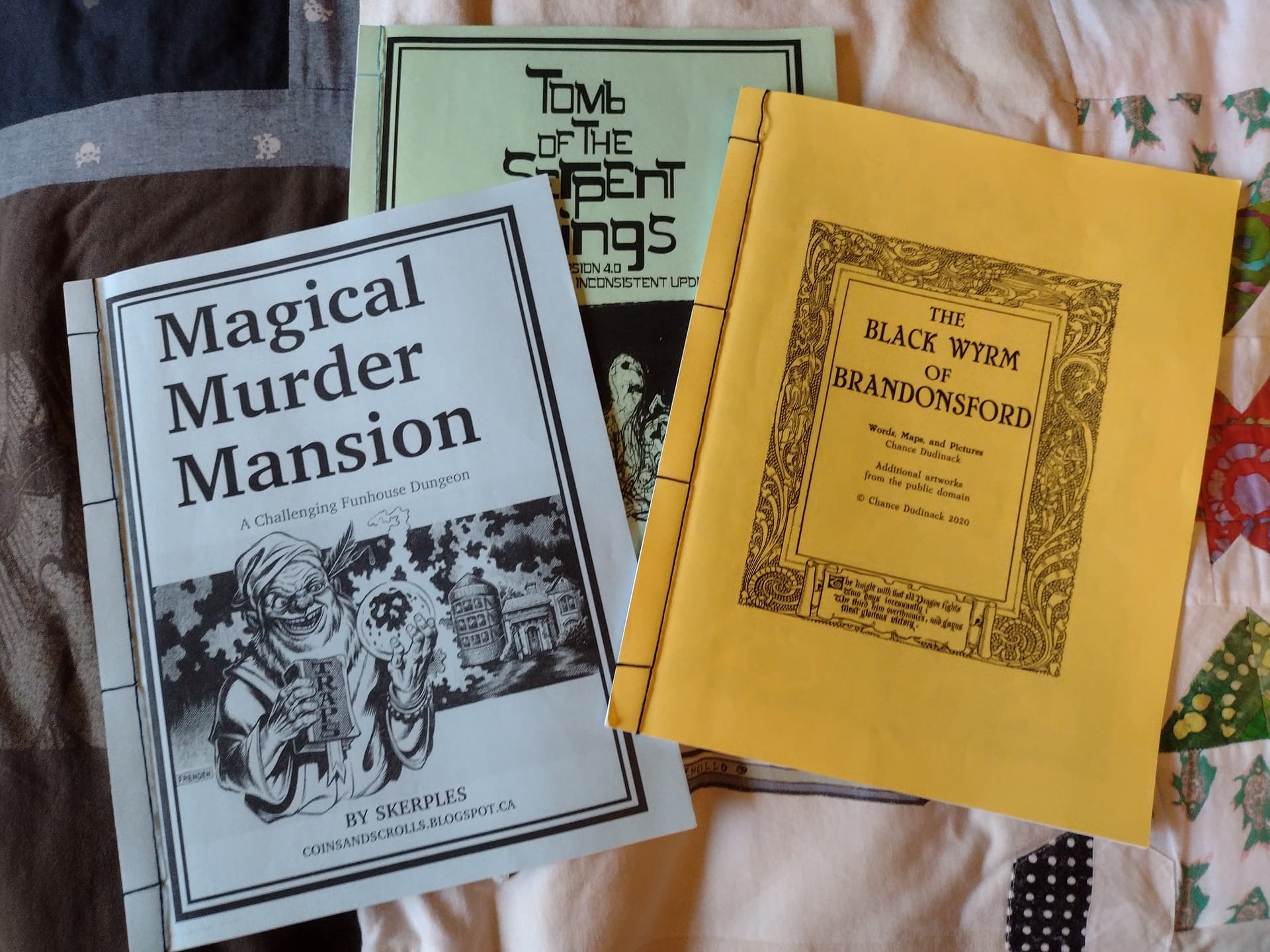 Oh neat! I've only done stab binding once, and my stitches were a little loose, too, with waxed thread. I'm not the best stitcher, so you might have better results than me. But yours look really good to me!
Thanks, I appreciate the vote of confidence!
This is me stab-binding with waxed thread. This one came out better than my first one.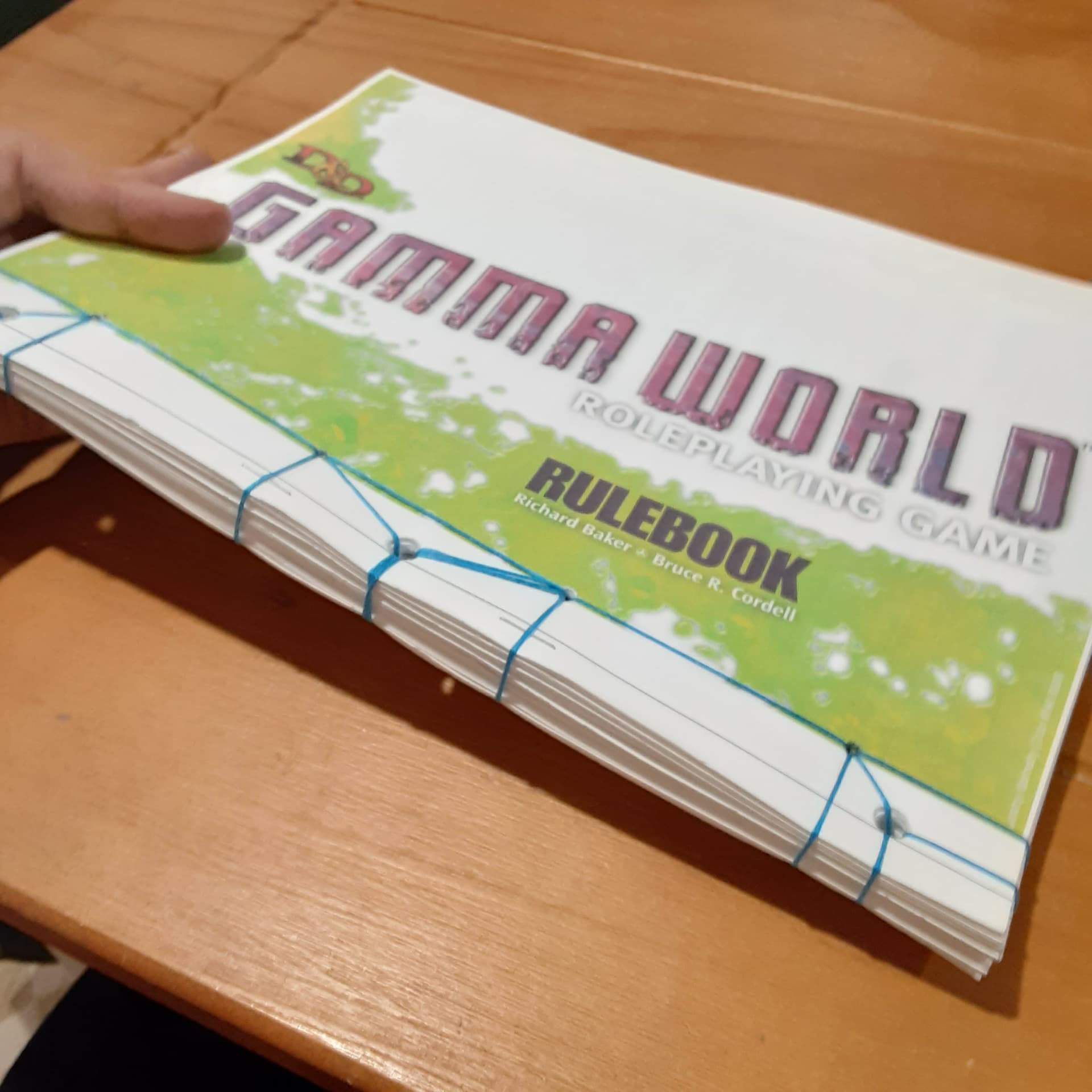 The designs with some diagonals in them felt pretty intimidating at first, but does seem to improve the strength of the book. Also I'm finding that there isn't too much of a drawback (other than looks) to having larger holes for the stab bindings, so that's a little easier for me on the stitching part.
Ooh looking good! I ordered some waxed thread (and curved needles to finally try coptic) from the big box craft store. I can't wait to see if my stitching feels better with it! And now I'm all excited to try some more decorative stab-binding. Love the diagonals you got going.
No, the waxed thread had no effect on the tightness of my stitches in stab binding.

But I think I have a better understanding of where to hold/pull to keep everything tight.
And I tried hole-punching as well but had a hard time lining up my holes. It worked well enough but it certainly doesn't look good. I need a bigger awl I think? I can't think of any other stabby implements that could work
I still haven't found my "preferred" hole punch method yet. I used a Japanese screw punch like Sea Lemon has, but I went with a cheaper one, and it already broke. I recently picked up a heavy-duty single-hole punch (looks like an office stapler) that I'm enjoying so far, but it's still new, so I want to wait before I recommend it for sure. So yeah, I hear ya with that frustration.